Acoustic Solution Wins Innovation Awards at DCS Awards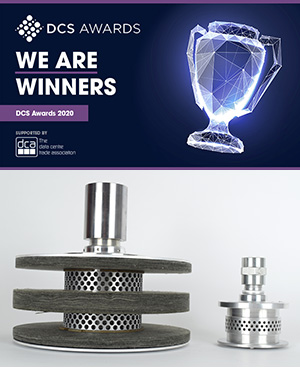 We are excited to announce that the LPG SAPPHIRE Acoustic Nozzle has been awarded the Data Centre Safety/Fire Suppression Innovation of the Year at the DCS Awards.
Now in its 10th year, the DCS Awards recognise the leading product designers, manufacturers, suppliers and providers in the European Data Centre arena.
The SAPPHIRE Acoustic Nozzle is specifically designed to be used as part of the SAPPHIRE PLUS 70 bar system using Novec 1230 fire protection fluid. This solution joins the award winning inert gas acoustic product introduced in 2017 and is fully implemented in the acoustic calculator, a unique tool designed to model the acoustic effects in the Data Centre environment.
Unlike other nozzles available in the market today, the LPG solution offers a complete package, using the calculation tool, which integrates the performance of the nozzle with the means to estimate the acoustic effects, when a system is discharged.
The SAPPHIRE Acoustic Nozzle is intended to be used in applications requiring a system discharge generating a lower sound output than a standard suppression nozzle. The acoustic performance of the nozzle is flow rate dependent, meaning that the sound level changes are based on the flow rate through the nozzle. The SAPPHIRE Acoustic Nozzle is designed to be a drop-in replacement for standard suppression nozzles with a minimum design temperature of 32 °F (0°C) and a coverage area of 32 ft x 32 ft (9.75 m x 9.75 m).
Additional News