Lithium-Ion Risk Prevention System Wins Innovation Award at DCS Awards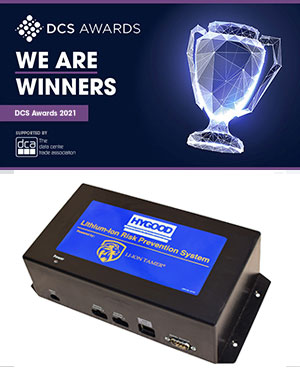 We are excited to announce that the LPG Lithium-Ion Risk Prevention System has been awarded the Data Centre Safety/Fire Suppression Innovation of the Year at the DCS Awards.
The DCS Awards recognise the leading product designers, manufacturers, suppliers and providers in the European Data Centre arena.
The system is engineered to provide early-warning detection of battery failure in Lithium-Ion Energy Storage Systems (ESS) and other applications using Lithium-Ion batteries such as UPS systems in data centers and manufacturing facilities. By monitoring and mitigating battery failure before it presents a fire threat, this technology provides immense safety value for the Energy Storage industry, which is rapidly growing due to global emission reduction targets in renewable power generation - particularly solar and wind.
This solution joins the award winning inert gas acoustic product introduced in 2017 and the award winning halocarbon acoustic product from 2019.
Learn more about the Lithium-Ion Risk Prevention System here
Additional News